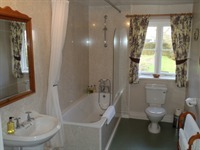 Access Statement
ALL our guest bedrooms are on the first floor, accessible only via stairs.
We regret that Manor Farm B&B is inaccessible to guests who are not able to safely climb and descend stairs unaided.
Several aspects of the farmhouse may create difficulties for infirm, unwary, blind or visually impaired guests.
In order to help you decide whether our accommodation would be suitable for you, please consider the following points:
Stairs
The stairs are in a 17th century part of the farmhouse, and although they have a single handrail (on the right as you go up), the narrow treads (minimum width 82cm) are steep, and there is a 90 degree turn at the bottom. Each step is approximately 24cm deep by 20cm high. The stairs are fully carpeted, and do not have colour contrasted nosings.
Changes in levels
The farmhouse is of mixed 17th century and 19th century construction, and all rooms have one or two small steps either into them, or between the bedroom and the bathroom. In addition, there is a 3cm high solid wood threshold (trip hazard) in the doorway between the hallway and downstairs corridor. This is all part of the character of the house, but can cause a problem for infirm, unwary, blind or visually impaired guests.
Baths and over-bath showers
All our rooms have baths. Two also have over-bath power showers. To use the baths or showers guests need to be able to step into the (approx. 58cm high) baths without grab rails. Non-slip mats are provided. En-suite rooms are available.
Obstructions
The corridors, guest bedrooms and dining room all have a range of obstructions which which may cause a problem for blind or visually impaired guests.
Emergency Exit Route
The emergency exit route requires use of the stairs. It may be unsafe for guests to stay who would have difficulty using the stairs to get out in an emergency.
This is not an exhaustive list, and is intended only as an initial guide for potential guests to assess whether our accommodation meets their access needs.
If you have any access queries (or any other questions) please simply e-mail us (or call us) and we will do our best to help!