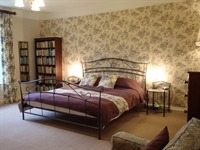 Super-king size double or family, en-suite - the "Master Bedroom"
Our "Master Bedroom" is a very large south-facing Georgian room with a super-king size double bed, a dining table and chairs, a sofa, and still plenty of space! Enough space in fact to add one or two extra beds if you wish, giving it the flexibility to be either a double, twin or family room. This room overlooks the recently converted farmyard and has views to the countryside beyond.
The en-suite bathroom is huge, with a full size enamel bath and very powerful over-bath shower.
Our standard tariff (which will apply most of the time) for the Master Bedroom including full English farmhouse breakfast is:
£110 per night (double occupancy)
£95 per night (single occupancy)
£150 per night with an additional single bed
£180 per night with two additional single beds
* Booking this room with two additional single beds cannot be done online. Please contact us directly to book with this layout.
You can see a selection of larger images of the Master Bedroom under the "Availability" tab.